Family property & finance mediation
Family property & finance
Sorting out the finances
Sorting out the finances
Sorting out finances and where everyone is going to live when you're separating can seem overwhelming and complicated.
But mediators are experts at seeing the wood from the trees and, believe it or not, most of our successful mediations are sorted in just three joint meetings. That means that all the questions that are keeping you up at night could be answered in just a few weeks from the moment you meet with us - and at a fraction of the cost of using the adversarial solicitor route.
Mediation First has developed a rigorous and thorough process to help you achieve a fair and workable financial solution.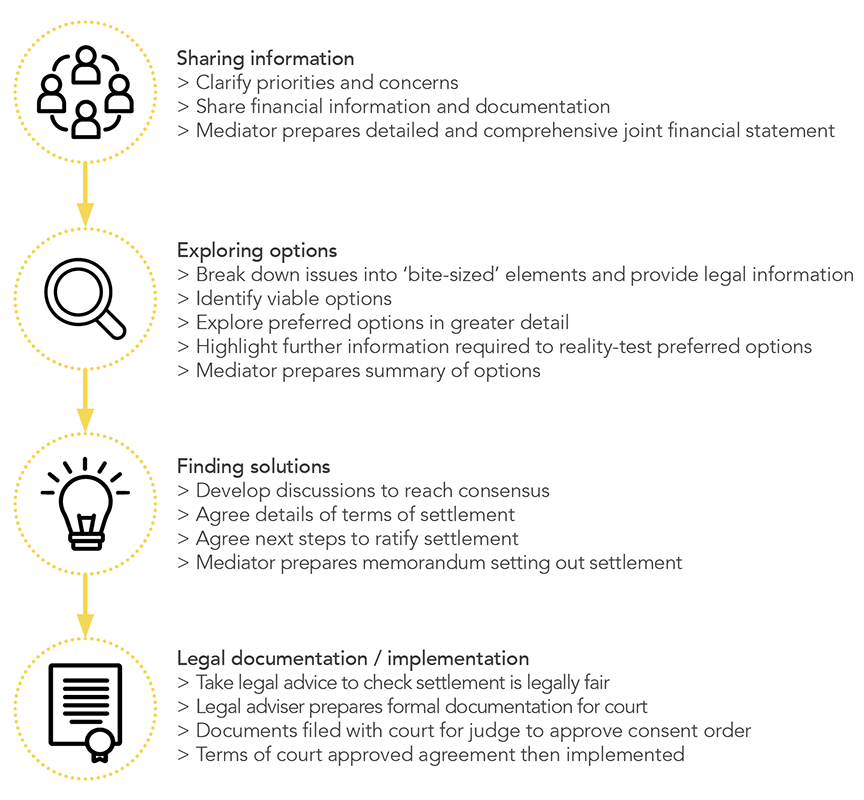 Mediation is incredibly flexible and there is nothing to stop us bringing in additional professional expertise when there are complicated businesses or pensions to discuss, to ensure all the relevant information is available. Where it looks as if it would be helpful, we can also conduct mediation sessions with each of you having your solicitor with you in the meeting to give you legal advice there and then. We recognise that one size doesn't fit all which is why we offer a bespoke service. At Mediation First, out mediators have the necessary experience to choose the right model for your situation - one that maximises the likelihood of a successful outcome.
Amazing what mediation can do. Talking things out with a mediator really does help
Your next step…
Your next step…
Family mediation starts with a Mediation Information and Assessment Meeting (a MIAM). We're currently conducting these online wherever you're based in the UK. This is dedicated time for you to tell us about your situation from your own point of view. We explain in detail how mediation works and start thinking carefully about the emotional and financial implications for your family.
I liked the way that mediation was non-confrontational and provided an easier way to reach a fair and reasonable outcome
Understanding Family Mediation